In this post, I'm going to outline everything you need to know about where and how to find used test equipment for a fraction of the cost that you would pay new.
When I set up a small independent EMC test lab from the ground up, I didn't have a big budget. Actually it was minuscule by most test lab standards. I really didn't know whether I could buy all of the test equipment that I needed to run a test lab on such a tight budget but I had a lot on the line, so it was an absolute necessity to find the best used equipment deals.
Meters, power supplies, oscilloscopes, signal generators, ESD simulator, analyzers, amplifiers, probes.. it was all essential for the success of my business.
Over several months, I discovered some great ways to secure the bargains that brought the project in on time and on budget. On at least 2 occasions I was able to pick up a piece of used test equipment worth over $5000 for less than $500. If you ever need to buy used test equipment for yourself or you company, follow the guidelines in this post to secure the best possible prices.
Buy Used Test Equipment Wherever Possible
This almost goes without saying, but if you're not designing products on the bleeding edge of technology, there is rarely a good reason for buying new test equipment. The used test equipment market is massive so it's almost guaranteed that you'll be able to find used equipment with the technical specifications that meet your needs. I would say I found 90% of the gear that I needed on the used market, with a few exceptions for very niche, rare equipment.
Most good used test equipment dealers will give you a warranty and calibration service, so you know that you're not buying a lemon. For extra piece of mind, look for dealers with an in-house ISO 17025 accredited calibration lab.
Narrow Down Your Options
First you need to narrow down exactly which make and model of test equipment that you're interested in. Let's say you want a signal generator. Outline a few criteria that are must haves. E.g.
– Minimum and maximum frequency (Let's pick 100 kHz and 2 GHz)
– Modulation modes (AM, FM)
– Number of outputs (2)
The main way I use to select possible equipment candidates is to the 'Advanced Search' feature on EBay.com.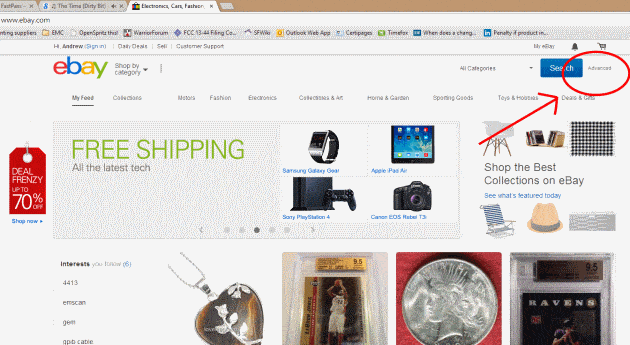 In the example above, I would search for, "Signal generator GHz KHz AM FM dual". Make sure to also select the "Search title and description" box as well!!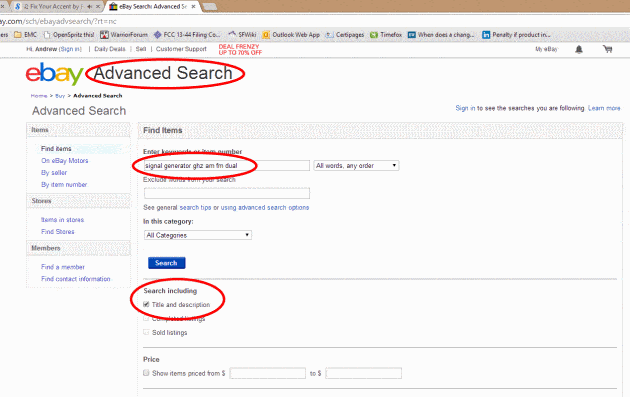 The search results will include results from many categories. Just use the category selection tool in the top left hand corner of the browser to narrow down the search. In this example I selected "Signal sources and generators". Then I used the 'sort by' tool to sort by "Price + shipping, lowest first". See below: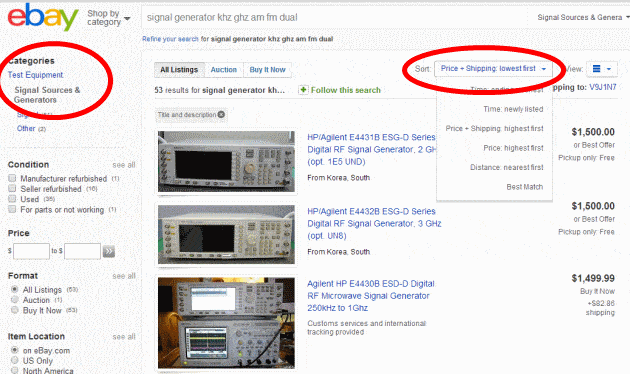 From this search, I can see that the Agilent E4431 and E4432B are possible candidates. I would then go and read the datasheets for these pieces of equipment (and any other pieces that came up during the search) to see if they met my performance criteria.
What's a Good Price For Used Test Equipment?
So let's assume you've now found one or two models that match your criteria. Before you go bargain hunting, you'll really need to work out what a bargain price actually is.
Firstly I'd go to Used-Line.com and ebay.com to search for the exact make and model number I was looking for. Same as in the example above, I would sort by "Price + shipping, lowest first". There would usually be some accessories or spare parts (broken) units noted in the list as well, so I'd scan down the list to see what the cheapest actual in stock working unit was. This price is a good starting point for what would be considered the 'highest' target price that I would expect to pay.
You should always keep in mind that most used test equipment sits dormant in a warehouse for months or even years before a sale actually happens, so the prices listed on websites should always be considered highly negotiable.
Use EBay's "Sold Listings" Feature to Find Out how Much Test Equipment Actually Sold For
A better way to gauge actual sale prices is to use an advanced search feature on eBay called 'Sold Listings'. This will tell you the history of exactly how much specific models of test gear sold for on eBay. It's very common to see here that the accepted bid/offer price is much, much less than the 'buy it now' price.
1. Go to advanced search
2. Click 'Sold Listings'
3. Type in the model number that you're interested in
View actual sale prices.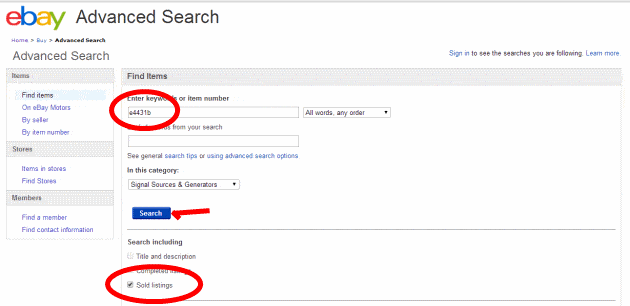 In this example, I can see that while E4431B's are listed for sale at $1500+, only one has sold in the archive period and the sale price was $545! In general, asking prices for electronics test equipment seem to be much higher than people are willing to pay for them.
Note: EBay recently changed their rules by hiding the winning 'Best Offer' price. To get around this, you just need to copy and paste the item URL into www.watchcount.com and it will show you the actual 'Best Offer' accepted price!
You'll typically find that the accepted best offer prices are significantly lower than the lowest prices listed on Used-Line.com or ebay.com. You can use this information as your new low target price and a very effective bargaining tool.
Knowing When to Jump on a Good Deal
The best deals I got (I'm talking $500 for a $7000 piece of test gear) were always from people who didn't know what they were selling. One example was a fellow who was given the task of listing the contents of his neighbor's garage on eBay because he was more 'tech savvy'. He had no idea what the equipment was, so he listed the items on eBay as an auction with a low starting price and no reserve.
There are hundreds of used test equipment dealers that keep a watchful eye on new items like this appearing on ebay every day. They will either snap up good deals on eBay very quickly or they will bid up the equipment significantly so it is much more expensive. It is never a good idea to get in to a bidding war. If possible, always try to snap up the equipment before other people notice it. In this case, I emailed the seller and told them I would like to buy the equipment right now because I had an urgent job (which was true) and asked him to change the listing to 'buy it now' and let me know the price he would be happy to accept. He took some convincing, but eventually we settled on $500 for a $7000 piece of test gear!
Another example of why some people may not know what they're selling is a when a company picks up a batch of equipment from an electronic company foreclosure. They may not have a clue what any of the equipment does or what it's worth. They go ahead and list the equipment on craigslist or eBay.
Speed is of the Essence
The key to securing used test equipment bargains in both of these scenarios is speed. You must find out about the listing before the equipment dealers find out about it.
There are a couple of pro-secrets to accomplish this:
If you know exactly what you want, just click 'follow search' at the top of the search listings. Make sure you check the box that says, "Email me new items that match this interest". This means eBay will email you the instant anything matching your search is posted to eBay.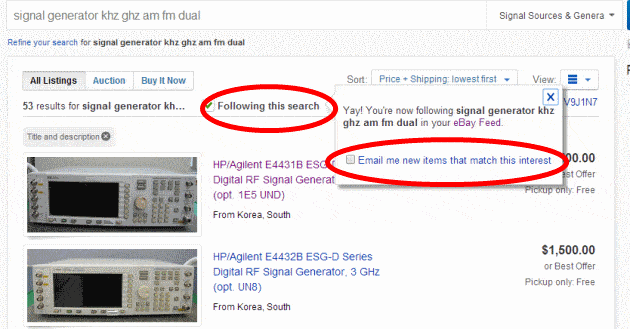 An extra A+ pro-tip to this method, is to set up email forwarding  with your email service provider to forward email from EBay to the email address associated with your cell phone [10 digit number@your cellphone provider.com]. Any email sent to this address will be sent to your cell phone as a text message! See [this post] for details on converting your cell phone number into an email address to receive SMS from emails.
In a similar fashion, craigslist lets you feed any new listings matching your search criteria to your email address. Follow their instructions here to receive an email alert whenever an item matching your search term is added to Craigslist.
Finding Used Test Equipment In Your City
Let's keep in mind that there is a real world as well as the internet. Occasionally, it's possible you'll come across a bankruptcy, closure or clear-out of a large electronics company in your city. It's a lot harder to find out about these events, but I found that used furniture dealers always had their fingers on the pulse. They would typically be the first to hear about a company that was closing in the city. Because the sale market is smaller (i.e. your city vs. the internet), you'll usually find that the prices are much lower than you'd find on the internet.
Another good place to watch out for this is on government websites. For example, here in Canada, there is the GC Surplus website, where the government lists repossessed equipment. You probably have similar government auction websites in your country.
Driving a Hard Bargain
Let's say that you now know exactly what piece of test gear you want and what's considered a great price. Now you need to go and find several people/companies who are currently selling that equipment and start playing them off against each other. See the 'essential websites' section below for several sources on the internet for finding the piece of test equipment that you're looking for.
My method of negotiating involves a combination of:
Showing them the previously sold prices (obtained using the methods described above)
Asking one dealer if they can beat the other dealer's price
Asking for the best price if I buy today
Asking whether they can include a fresh calibration with the price
Asking them if they will pay for shipping and import taxes
If you need the equipment quickly and there are very few dealers with stock, then it will be much harder to drive a hard bargain. You usually get the best deals if you can find several sources for the equipment and if you're really prepared to walk away from a deal.
Be Careful of Fraud
Fraud is a real concern when buying high value test equipment on the internet. There are several things to watch out for:
Untrustworthy Calibration Labs
Sometimes a used dealer will say they have an in-house calibration lab, but they actually just place a sticker on the test gear without testing it. It's best to always ask for a report "with data" which gives you more confidence that they actually verified your equipment properly. Also look for calibration labs with ISO 17025 accreditation. This gives a much higher probability that the test lab is trustworthy, although it is not a guarantee.
Verify the Ebay ratings of any sellers. I make a rule of avoiding any Ebay sellers with a rating of less than 95%. Also you should be very weary of sellers with brand new accounts or those that have not sold high value items in the past (check the seller history).
Craigslist has a very high incidence of fraud. I personally have encountered 2 instances of attempted fraud when attempting to buy test equipment off Craigslist. If the seller requests money before you have received the product, most of the time this means that you should walk away. Always try to view the product in person before buying items off ebay, or if the equipment is far away, try to do as much background checking of the person/company who is selling, before transferring any money. I have actually found a few bargains on Craigslist and sent money before receiving equipment, but that was after talking to the seller on the phone and satisfying myself that they were trustworthy.
Does the dealer actually possess the equipment?
A common occurrence is for a used equipment dealer to list a product on the internet that they don't actually have in stock. When you call them, they tell you that they have it in stock and they will check it for 'availability'. What they're actually doing is checking a database of stock that is shared between many equipment dealers. This means they don't really know what condition the item is in and what the calibration status is. If I'm talking with an equipment dealer, I always make sure they have it in stock themselves or I walk away.
When you're buying test equipment from a foreign country, you need to be hyper-vigilant for fraud. If there are no ratings available for the seller and no easy way to verify whether they are legitimate, always insist on using an escrow service such as www.escrow.com. Services like this will act as a middle man and will only release your money to the seller when you have confirmed that the test equipment has arrived.
Essential Websites
Here's a few go-to websites that I visit whenever I need a new piece of test equipment.
This is my main go-to source for test equipment. Occasionally, a particular test equipment sale item may not be visible in your country's Ebay listings (e.g. Ebay.co.uk) because the seller has not listed your country as a shipping destination. If you can't find your item on Ebay, it's worth trying some other country's Ebay sites too.
Good source of used equipment dealer stock. It's the largest database that I've come across that contains the used equipment stock of lots of equipment dealers. They also have a 'wanted' function, but I've never found this very effective (the response rate is low).
These guys are tasked with disposing of large amounts of test equipment from big electronic company clear-outs or closures. It's like eBay, but with low reserves and no repeat listing. The equipment that goes on sale here is very dependent on which companies have recently closed. The downside to this source is that many used test equipment dealers watch it for bargains, so the competition is high. The upside is that you'll often see 20+ units of a particular piece of test equipment and even used equipment dealers are weary about sucking up that much inventory. It's very possible that you'll pick up test gear for the reserve price, which is typically low.
It's quite possible to find test equipment gems on Craigslist. If you don't find what you're looking for in your city, just use google to search for your item and add the term 'craigslist' to search all craigslists.
Wrap Up
Hopefully I've shed some light on how to pick up some great test equipment deals. Have you snagged any great deals in the past? Was this post helpful? Got any other tips for us? What else would you like to hear about? Comments section below..