This week I'm going to talk about a few little known exemptions that I learned about when I was wading knee deep through the murky waters of several regulatory standards. I hope you can take advantage of a few of them and save yourself and your company some serious money. Firstly, I'll focus on exemptions related to the EMC Directive for CE Mark testing. Then I'll go into the top 10 exemptions to part 15 of the FCC's rules! Please let me know your thoughts in the comments section at the bottom.
CE Mark Exemptions
CE Mark testing under the EMC Directive is usually quite a bit more expensive than FCC testing because it involves emissions and immunity testing whereas FCC testing usually only involves emissions testing. Therefore, if you can avoid it you stand to save some serious time and money.
The latest guide for the EMC Directive outlines many products that are exempt. Firstly, take a look at this flow chart that gives you a general overview of the applicability of the EMC Directive.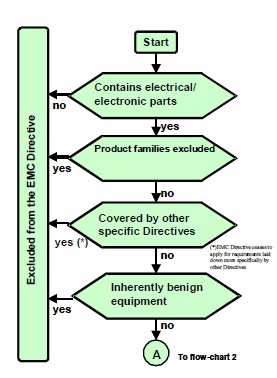 If you're reading this blog post, the chances are that you are involved with the design of some kind of electronic or electrical equipment, so it's safe to skip the exemption at the top of the tree.
Next is the 'excluded product families' exemption. This refers to equipment covered by other standards such as radio equipment (covered by the R&TTE Directive instead). This doesn't necessarily mean that EMC testing won't be required for your product; it is usually just defined differently in another standard.
Components, sub-assemblies or other units which are intended for incorporation into apparatus, but which have no "direct function" for the end user, are not considered to be apparatus for the purposes of the EMC Directive. This is a good one to take advantage of if your company makes electrical products that will be integrated into other equipment. Note that your end customer may demand proof of compliance even if it isn't mandatory.
Some examples of this are:
– Components forming parts of electrical circuits, e.g. resistors, capacitors, coils, transformers, diodes, transistors.
– Cards or modules required for the minimum level of function of the apparatus, e.g. central processing, minimum memory.
– Internal power supplies, including batteries- cathode ray tubes, light-emitting diodes (LED's), liquid crystal displays (LCD's).
– Private telecommunications and data networks
9 kHz Lower Limit
Measuring emissions from electrical equipment in Europe is only required for equipment that has internal switching above 9 kHz. This may be especially useful knowledge if you are designing a low frequency product such as a simple micro-controller or a low frequency switching power supply. If you have the flexibility to drop the highest clock frequency in your product below 9 kHz, then do so because you'll avoid emissions testing altogether and save yourself a headache!
Low Voltage Directive (LVD) Exemptions
Closely related to the EMC Directive for CE Mark compliance is the LVD which covers electrical safety requirements. For many electronic/electrical products destined for sale in Europe, the recipe for demonstrating compliance with the rules is:
CE Mark  = EMC + Safety (The LVD)
And the LVD applies to: "all electrical equipment designed for use with a voltage rating of between 50 and 1000 V for alternating current and between 75 and 1500 V for direct current. Voltage ratings refer to the voltage of the electrical input or output, not to voltages that may appear inside the equipment."
I'm not particularly familiar with safety requirements, but there is a well known method that a company can use to avoid this arduous testing requirement. Typically safety testing costs $5000+ per product, plus an annual 'maintenance' fee. It's obvious why companies seek to avoid the fees if possible and if safe to do so.
Based on the scope clause above, you can see that if you ensure that the input, output and internal voltages of your product are kept below 50V AC or 75V DC, then the directive does not apply. If your design constraints allow, rather than having a mains AC input into your product, in some cases all you need to do to avoid the LVD is purchase a pre-approved (CE Marked) AC-DC power adapter and ship it with your product (assuming internal and output voltage do not exceed the scope ratings as well).
Make sure that you trust the power adapter vendor, because often cheap power supplies will bear the CE Mark, but not actually be compliant. This can bite you in the butt because a non-compliant power adapter can cause your whole product to fail a number of tests such as conducted emissions, surge and EFT. I've also witnessed cheap power adapters that were 'cost reduced' after initial passing samples were provided, which lead to a conducted emissions failure!
It's key here to note that even if your device is exempt from the LVD, there may caveats or other safety standards that apply to your product. Always double check with a test lab, but also read between the lines of their 'sales speak' to work out what is mandatory and what are just scare tactics.
Top 10 FCC Exemptions
Most electronic devices destined for sale in the US fall under Part 15 (CFR 47) of the rules for limits to the unintentional (and sometimes intentional) emission of radiation. There are a number of exemptions that you may be able to take advantage of that you should keep in mind when designing your products. You can find the bulk of this info in section 15.103 of the rules. The FCC  recommends that you still aim to comply with the rules, and they have the power to halt sales of your device if the device has been found to cause harmful interference, so use with caution!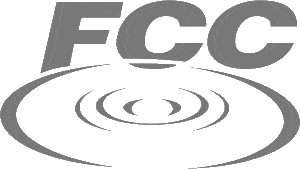 1. A digital device utilized exclusively in any transportation vehicle including motor vehicles and aircraft. (Note: wireless devices are subject to other FCC rules)
2. A digital device used exclusively as an electronic control or power system utilized by a public utility or in an industrial plant. The term public utility includes equipment only to the extent that it is in a dedicated building or large room owned or leased by the utility and does not extend to equipment installed in a subscriber's facility.
3. A digital device used exclusively as industrial, commercial, or medical test equipment.
4. A digital device utilized exclusively in an appliance, e.g., microwave oven, dishwasher, clothes dryer, air conditioner (central or window), etc.
5. Specialized medical digital devices (generally used at the direction of or under the supervision of a licensed health care practitioner) whether used in a patient's home or a health care facility. Non-specialized medical devices, i.e., devices marketed through retail channels for use by the general public, are not exempted. This exemption also does not apply to digital devices used for record keeping or any purpose not directly connected with medical treatment. (Other EMC rules usually apply instead)
6. Digital devices that have a power consumption not exceeding 6 nW.
7. Joystick controllers or similar devices, such as a mouse, used with digital devices but which contain only non-digital circuitry or a simple circuit to convert the signal to the format required (e.g., an integrated circuit for analog to digital conversion) are viewed as passive add-on devices, not themselves directly subject to the technical standards or the equipment authorization requirements.
8. Digital devices in which both the highest frequency generated and the highest frequency used are less than 1.705 MHz and which do not operate from the AC power lines or contain provisions for operation while connected to the AC power lines. Digital devices that include, or make provision for the use of, battery eliminators, AC adaptors or battery chargers which permit operation while charging or that connect to the AC power lines indirectly, obtaining their power through another device which is connected to the AC power lines, do not fall under this exemption.
9. Same as the low frequency exemption for CE, if your device doesn't generate and use timing signals or pulses at a rate in excess of 9,000 pulses (cycles) per second (9 kHz), then you can avoid emissions testing altogether.
10 Home-built devices: Equipment authorization is not required for devices that are not marketed, are not constructed from a kit, and are built in quantities of five or less for personal use. It is recognized that the individual builder of home-built equipment may not possess the means to perform the measurements for determining compliance with the regulations. In this case, the builder is expected to employ good engineering practices to meet the specified technical standards to the greatest extent practicable.
Caveat: Responsible parties should note that equipment containing more than one device are not exempt from the technical standards in this part unless all of the devices in the equipment meet the criteria for exemption. If only one of the included devices qualifies for exemption, the remainder of the equipment must comply with any applicable regulations. If a device performs more than one function and all of those functions do not meet the criteria for exemption, the device does not qualify for inclusion under the exemptions. (Note: for example, if you have a device with a wireless transmitter and some baseband circuitry that happens to be exempt, the wireless transmitter still has to be tested).
Wrap Up
So that was an outline of a few exemptions that I hope you can take advantage of at some point in your career. Please confirm with your test lab whether you are indeed exempt as there are some caveats to this information. If you can't take advantage of any exemptions, you may want to have a look at how to source test equipment bargains for doing some pre-compliance testing.
Have you ever successfully used exemptions? What has your experience been with your test lab giving you guidance on what tests you can avoid? Or any other comments/suggestions in the comments section below! In a future post I'll delve into some lesser known ways to avoid testing, such as risk assessments (for CE), in-house testing substitutions and ways to minimize re-testing of products in a family with minor hardware differences.