FCC Wireless (RF) Pre-Compliance
Learn how to undertake RF conducted pre-compliance testing using a spectrum analyzer
---
---
   
What You'll Learn:
Step-by-step video demonstrations of all conducted RF measurements for DTS and FHSS devices (FCC part 15.247)
How to prepare your hardware and firmware for RF pre-compliance testing
How to choose a spectrum analyzer that fits your budget
How to operate a spectrum analyzer for RF measurements
How to avoid common pitfalls of the application process that can create delays of up to 4 weeks
What to do to maintain compliance if your transmitter design changes after certification

Who Is This Course For?

Test Engineers
Test engineers who want to learn how to set up and run an EMC test lab

Testing Technicians / Engineers
Technicians and Engineers who want to know what test equipment they'll need to purchase for various EMC tests

Managers and Engineers
Managers and engineers who want to better understand the EMC testing process needed to bring products to market

Industry Professionals or Students
Anyone who has questions about EMC testing and standards

Course Content:
| Lesson | Time |
| --- | --- |
| Test Equipment | 44m:26s |
| Hardware and Firmware Preparation | 14m:21s |
| FCC Rules for Wireless Devices | 17m:20s |
| The Certification Process | 13m:38s |
| Using a Spectrum Analyzer | 40m:56s |
| RF Tests For DTS Devices | 17m:18s |
| DTS Pre-Compliance Measurements (Part 1) | 32m:28s |
| DTS Pre-Compliance Measurements (Part 2) | 50m:45s |
| RF Tests For Frequency Hopping Spread Spectrum Devices | 15m:53s |
| How to Make Frequency Hopping Spread Spectrum Measurements | 1h:19m:05s |
| Documentation, Labeling & Modular Approvals | 24m:06s |
| Preparing Your Certification Package | 11m:57s |
| Making Changes To Your Product After Certification | 14m:53s |
---

Course Description:
Tight project timelines make failing at a test lab an almost untenable situation. This training course helps you to ensure that your RF transmitters (such as Bluetooth, Zigbee, Wi-Fi, 802.15.4) are verified prior to full certification testing.
It offers a step-by-step process that any manufacturer can implement to verify with a high degree of certainty that newly designed transmitters meet the FCC's requirements..
With only a small amount of test equipment (e.g. a low-cost used spectrum analyzer), you can undertake the majority of tests that a full compliance lab would do.
You'll get a step-by-step walkthrough showing you how to make conducted RF measurements such as spurious emissions, emissions bandwidth and peak power.
You'll learn how to compare those measurements to the FCC's limits to give yourself the best possible chance of passing certification testing the first time.
Note: The information in this training course was tailored specifically for transmitters that fall under FCC Part 15.247 (CFR47 Part 15 subpart C) such as Bluetooth, Zigbee, Wi-Fi, 802.15.4 and many other low power wireless transmitters. However, the measurement techniques apply to many other types of transmitters that fall under different rule parts.
---

The FCC Wireless (RF) Pre-Compliance Course

13 Video Lessons
2 Case Studies
---
---
1 year unlimited access


Certificate of Completion
---
Tuition:  

   Request Pricing
Setting:   

  Online/Virtual
Course Length:   

  6 Hours

About The Instructor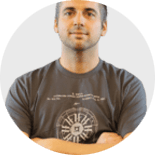 Andy Eadie (B.Eng (Hons.)
EMC Engineer | Hardware Design Engineer | EMC FastPass Founder
Andy is a hardware design engineer and the founder of EMC FastPass.
He designed hardware products for 10 years before building and running an FCC listed EMC test facility. In 2014 he founded EMC FastPass with the goal of making EMC education interesting, accessible and globally available.