If you need to design an RF transmitter into your product, the choice between using a pre-certified RF module, non-certified RF module or designing your own transmitter from scratch is not easy. In this post, I want to persuade you that if you design multiple products containing similar RF transmitters, designing and certifying your own RF module is one of the best ways to save $10,000+ and 1 month time to market per product.
Read on to discover the ins and outs of RF modules and what you need to know to avoid some common pitfalls…
Related Resources:
RF Implementation Comparison
Here's a top level overview of the routes you can take to implementing a wireless solution into your product. The ballpark pricing here is for Wi-Fi modules, just to pick an example. The certification costs brackets are wide because they account for variations in regional test requirements and configurations of equipment.

Note that designing your own module really makes a difference to the certification cost and design effort for your next product…. and the one after that…. and the one after than. You get the idea.
What Is An RF Module?
An RF module is a separate circuit board (sub-assembly) that contains all of the circuitry needed to transmit (and usually receive) RF energy. It may include an integrated antenna or a connector for an external antenna. It's typically shielded to limit unintended emissions and increase EMC immunity. RF modules are typically integrated into a larger embedded system to add wireless communication functionality. There are receive only RF modules and transmit only RF modules, but because most implementations include transmit and receive, that's what we'll be covering in this post.
Two of the most widely used RF modules are bluetooth modules and wifi modules. But, almost any transmitter can be a wireless module. It's important to note that even 'licensed transmitters' (transmitters that require the purchaser to get a license to legally use the device) can get modular certification, but in this post I'm going to focus on the most common implementation, which is 'unlicensed transmitters' where the purchaser can just buy the equipment and start using it immediately. In FCC terms, that means a transmitter that falls under part 15C thru 15F of the rules.
As I mentioned, some examples of RF modules are bluetooth modules and wifi modules. You can easily add in this functionality into your system by dropping in a module.
Pre-Certified vs. Non Certified RF Modules
When you're shopping around for a solution, you'll notice that manufacturers of RF modules offer both pre-certified and non-certified options. Read on below to find out the pros and cons of each option.
Pre-Certified RF Modules
A pre-certified RF module means that the manufacturer has gone to the effort and cost of certifying that particular module. It's super important to note that the manufacturer must have certified the module in all of the countries or regions that you intend to sell your product, otherwise you're going to have to get a lab to do a full RF certification anyway to cover the new region.
Pre-Certified RF Modules Upsides
Fastest time to market
Reduces risk of RF certification to zero
Fast integration time into your product
Pre-Certified RF Module Downsides
High cost per unit
Restricted to antenna type(s) used in original certification
Restricted to modulation schemes used in original certification
Risk of OEM product shortages
When you use a pre-certified RF module, you're restricted in your choice of antenna(s). The original manufacturer (OEM) would have provided the EMC testing laboratory doing the RF testing with one or more antennas to certify the transmitter with. Because the antenna type has such a large effect on transmitter behavior and performance, the end customer (you) have to choose an antenna type that is electrically identical to those used during the original tests. The RF module OEM will/should provide you with an 'integration manual' that details exactly how the module should be integrated into your device, including the choice of antennas.
In the same way, you're also restricted to the modulation types that the OEM used during the original certification.
You can search for this information by typing the FCC ID number in the FCC's search tool. The manual and implementation manual will be visible because it's publicly available information.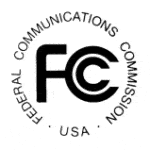 The obvious downside for using a pre-certified RF module is the per-unit cost. The OEM charges you a premium (quite rightly) for having gone through the headache of RF certification testing. It can take 4-6 weeks to fully certify a transmitter, and that's assuming all goes well! And costs can run anywhere from $7k to $20k per transmitter depending on which regions you want to certify and how many antennas/modes of operation the transmitter has. If your goal is fastest time to market, using a pre-certified RF module reduces the risk introduced by wireless certifications to practically zero. Similarly, if your product is low volume and high margin, it may not be worthwhile to fork out for your own transmitter design.
Pre-Certified RF Module Examples
Upverter have compiled a good list of WIFI and bluetooth modules including average pricing, certification regions and a bunch of other useful criteria. Here are the links: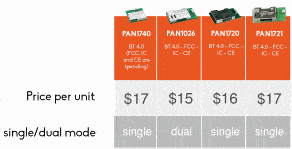 Picking the right Wifi module >>
Picking the right bluetooth module >>
Non-Certified RF Modules
Non-certified RF modules are exactly the same as pre-certified modules, only the OEM hasn't put the module through official certification testing. They may well have undertaken their own testing on the device to prove that it is compliant, but you will also need to go through certification. I've unfortunately spoken to several companies who already designed in a non-certified module and weren't aware of this difference. It cost them around $10k and 4 weeks time to market that they didn't account for.
Non-Certified RF Modules Upsides
Lower cost than pre-certified module
Reduces risk of RF certification compared to designing your own module
Fast integration time into your product
Choose your own antenna(s) and modulation
Non-Certified RF Module Downsides
Still higher cost than designing your own
Reliant on OEM for parts (may go obsolete or have long lead time)
How to Design Your Own RF Module
The FCC has pretty good guidance on how to design your own RF module. The key is to make sure that you've ticked all of their boxes.
Probably the first thing to note is that there are 4 different levels of modular certification: single-modular transmitter, limited single-modular transmitter, split-modular transmitter and limited split-modular transmitter. The 'limited' options allow for relaxation of the rules at the cost of being constrained to your own host(s) i.e. you can't sell the module to other people or radically change the enclosure of your design. For this post, I'm going to focus on the Cadillac of modular certifications, the "Single-modular transmitter", because it's not that hard to get so you may as well!
Below I'm going to outline the requirements for FCC modular certification:
RF Module Shielding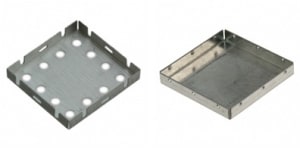 The radio elements of the transmitter must be shielded. There are a few parts that are permitted to be external to the shield such as PCB antenna (if that's the type you're using) and tuning capacitors. But for the most part, all components associated with your transmitter should be housed beneath a shield. This is to limit any emissions from the design. I've seen FCC submissions where the OEM has claimed that a ground plane is sufficient for a 'shield', and they got away with it. But they must have caught the TCB (the body that issues the certification) on a good day. In my experience I would say not many TCBs would let you away with that.
RF Module Buffered data inputs
The module must have buffered modulation/data inputs. Again this is an attempt to limit emissions for any type of host that the module will be integrated into. I've seen many modular certifications that use the justification that the inputs to the RF chip are buffered so therefore external buffers are not required. If you want to avoid any doubt, drop in some cheap data buffers.
RF Module Power Supply Regulation
The module must contain power supply regulation on the module. Again, this is an attempt to ensure that emissions are contained when integrated into all hosts. Many RF solutions provide an on-chip regulator for powering a part of the transmitter circuitry. Depending on your solution, you may or may not need to include a separate external regulator for the RF module.
RF Module Antenna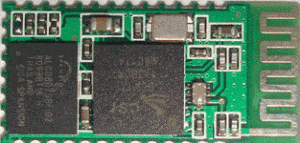 The module must contain a permanently attached antenna, or contain a unique antenna connector, and be marketed and operated only with specific antennas. If you're not including a permanently attached antenna, you can see that the FCC wants you to use a 'unique' antenna connector. This is an attempt to make it difficult for the end user to use their own type of antenna. Ironically, antennas that fit the 'unique' connectors are now easily available from companies like digikey. Connectors such as "SMA-RP" are considered unique, but not "SMA".
The RF module must demonstrate compliance in a stand-alone configuration
This just means that the EMC lab will need to test the module on its own. You can provide support hardware such as a carrier board or auxiliary debugging equipment, but the module should not be within a host device for testing purposes.
The RF module must be labelled correctly
With your certification application, you need to include a diagram or photograph of the FCC ID number affixed to your module. It can also be displayed electronically if you like.
The RF module must comply with all specific rules applicable to the transmitter
If for instance you have a 2.4 GHz transmitter that falls under 15.247 of the rules, then you need to test the module to 15.247. This is no different to the requirement for a non-modular certification. With your application, you need to provide the test report that shows compliance with the rules.
The module must comply with RF exposure requirements
This is also a requirement for a non-modular certification. It means that the maximum field strength of the product will be evaluated and compared to government RF exposure limits. The EMC test lab will do this. For most wireless products, this is just a calculation in a spreadsheet and isn't a problem for most low power transmitters. But, if you expect your transmitter module to be warn in close proximity to the human body, you may also need to undertake SAR (specific absorption rate) which can easily run you $5k+. SAR testing is usually required for things like cell phones and laptops. There are exemptions depending on how powerful the transmitter is and how close to the body your device will be placed. Contact a SAR testing lab for more info.
For more guidance on designing an FCC compliant RF module, see KDB996369 and this presentation.
Connectors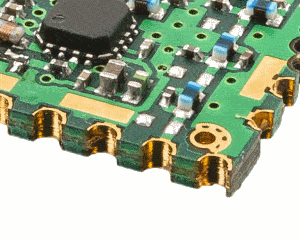 You needn't even use connectors on your module. You can use half holes and solder it directly to your circuit board, so the increase in cost of an extra PCB is minimal. Make sure to clear the board of tracks and vias below the RF module to avoid potential shorts.
RF Module Documentation Requirements
When you design your own RF module, there are some differences in the documentation requirements you need to take care of. This example is for the FCC, but similar rules apply to different regions around the world.
Extra documents you need to produce:
1. An integration manual
This is required to show your customer or your own engineers how the module should be implemented. It includes information such as antenna choices and labeling requirements that they should use on the host product.
2. Labeling
The FCC's labeling requirements are slightly different for product that contain wireless modules. The module itself needs to be labelled with the FCC ID number and on the outside of the host product, the label need to include text such as: "Contains Transmitter Module FCC ID: ABC12345" or "Contains FCC ID: ABC12345." The rules for this can be found in part 15.212.
When NOT to design your own RF Module
There will be some cost trade off involved with this choice. If your predicted sales volume is low and your margins are high, then designing your own module may not be the way to go. Also, if your product is a one off design and you don't think you'll ever need an identical transmitter again, there's no point creating your own module.
If you want to dig more into the cost analysis of pre-certified modules, I highly recommend Texas Instrument's app note on the subject.
There is negligible cost difference in certifying a module vs. certifying a transmitter within your product, so if there's even a small chance that you'll need the same radio for future products, I'd recommend going with the module.
RF Modules FAQ
Can I Copy a Pre-Certified RF Module to Avoid Certification?
Unfortunately not. The reason is that the certification is granted only to the manufacturer of the module. They are responsible for ongoing compliance of the modules so therefore, if you copy their module design (even if they give you the schematic and layout), they no longer have the power to verify that the modules continue to be in compliance. On the face of it, this seems like an unnecessary and costly extra step that the regulatory bodies put in place. I'm normally against unnecessary regulations and testing requirements that seem too stringent, but this time there's actually some logic to it. Say you copy the schematic and layout of an RF module. If you change something crucial by accident, such as the PCB stack, that can totally change the characteristics of the RF transmitter. You can no longer guarantee that the transmitter is compliant with the rules. This is why copying a pre-certified module design doesn't mean you have a certified device.
What if I ship around the world?
If you are designing a pre-certified RF module into your product, make sure that it has all of the global certifications that you need. Wireless regulations are different around the world, so if your module only has FCC certification, that doesn't mean you can ship your product to Europe or Japan. To ship to different regulatory zones, the module would need to be pre-approved for those particular zones.
With a pre-certified RF module, do I need to still do other emissions testing?
Yes. You still need to have your product tested for unintentional emissions associated with the non-transmitter circuitry in your design. This process is much less painful – only 1 or 2 days if all goes well, and $1k-$2k costs. If you need immunity testing, that would be extra, but your product is essentially treated as a product without a wireless transmitter in it.
Wrap Up
This post was aimed to give you the low down on wireless modules options. I hope you have a clearer picture of which route to take! Let me know if you have any questions in the comments.
Cheers,
Andy.