This article is an extract from the eBook "Global Certifications for Makers and Hardware Startups", available for sale here.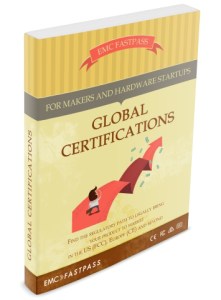 I'm often asked whether electronics 'kits', where the kit is a group of parts assembled by the end user can be exempted from the rules. This post explores that idea.
The FCC defines a kit as (FCC 15.3):
"Any number of electronic parts, usually provided with a schematic diagram or printed circuit board, which, when assembled in accordance with instructions, results in a device subject to the regulations in this part, even if additional parts of any type are required to complete assembly."
Based on the definition above, it looks clear that non-authorized kits that are intended to form a complete product when fully constructed are technically not legally permitted to be sold in the US. That is because if you are marketing and selling a kit to an end user, which the user will then build into a full product, there is no reason to suspect that the normal rules would not apply. Kits would have the same, if not more (because extra human error is introduced) chance of being non-compliant with the radiated and conducted emissions limits. It just doesn't make logical sense that kits would be excluded from FCC emissions rules.
The same is true of intentional radiator kits (i.e. products with a transmitter that are subject to certification). In response to the question "What are the FCC Rules for building and marketing of kits of products, which when completed are subject to the FCC Rules?", the FCC replied quite clearly in KDB927445 that "As described in Section 15.23, individuals are permitted to construct a device for personal use without seeking equipment authorization from the Commission, but it may not be marketed as a kit. All other devices subject to Certification (whether marketed as a Kit or not), must be certified under Subpart J of Part 2."
I would point out that there is a distinction between a kit that when assembled will form a "subassembly" and a kit that will form a full device that will be subject to normal FCC authorization procedures. Kits that form subassemblies will be discussed separately below this section. Here I am only discussing kits that are intended to form a full product once the end user puts the pieces together.
How do some companies get away without certifying their devices?
You may be asking yourself how companies such as Sparkfun, a business based on selling electronics kits and wireless development kit companies continue to sell large numbers of non FCC authorized kits, with seeming impunity. For Sparkfun, the rules that apply in most cases relate to "subassemblies". This just means that Sparkfun's customers will most likely use the products to build larger products containing a number of subassemblies. For example, that may include an Arduino™ processor board along with several sensors or peripherals and an LCD. The user may even put all of these parts into an enclosure. If the user sells this product containing multiple subassembly parts in an enclosure, for all intents and purposes they are now a "manufacturer" and their equipment is subject to the normal FCC authorization procedures.
It's worth noting that before integrating a subassembly into their system, many manufacturers will demand to see proof of compliance of the subassembly. That's because they don't want your subassembly to be the cause of a failure of the whole system. Subassemblies that have poor emissions or immunity performance can easily cause a larger system to fail regulatory testing, so it's in their best interests to demand proof of compliance, even if it isn't a legal requirement.
When does the FCC consider you to be a manufacturer?
Where is the FCC's line in the sand for when home built equipment becomes subject to their rules? That is defined in Part 15.23.
"Equipment authorization is not required for devices that are not marketed, are not constructed from a kit and are built in quantities of five or less for personal use."
That's probably easier to understand if I say it in the opposite way; If you are marketing your product (are you putting out ads, or offering your product for sale?) or it is not intended for personal use (i.e. it's for someone else) or if you make more than 5 of them, then you need to have your device tested according to FCC rules. If you do any of these things, the FCC views you as a manufacturer.
Subassemblies
Keeping your device within the scope of "subassembly" definition is one of the best chances you have of avoiding FCC (and CE) authorization requirements.
The exemption goes as follows (FCC 15.101):
"No authorization is required for a peripheral device or a subassembly that is sold to an equipment manufacturer for further fabrication; that manufacturer is responsible for obtaining the necessary authorization prior to further marketing to a vendor or to a user.

Subassemblies to digital devices are not subject to the technical standards in this part unless they are marketed as part of a system in which case the resulting system must comply with the applicable regulations. Subassemblies include:

(1) Devices that are enclosed solely within the enclosure housing the digital device, except for: power supplies used in personal computers; devices included under the definition of a peripheral device in §15.3(r); and personal computer CPU boards, as defined in §15.3(bb);

(2) CPU boards, as defined in §15.3(bb), other than those used in personal computers, that are marketed without an enclosure or power supply; and

(3) Switching power supplies that are separately marketed and are solely for use internal to a device other than a personal computer."
If you can keep your device within that definition, then you can probably get away without FCC testing. It would be up to the manufacturer that uses your "subassembly" in their own product to have their product tested.
FCC Caveat:
"Responsible parties should note that equipment containing more than one device are not exempt from the technical standards in this part unless all of the devices in the equipment meet the criteria for exemption. If only one of the included devices qualifies for exemption, the remainder of the equipment must comply with any applicable regulations. If a device performs more than one function and all of those functions do not meet the criteria for exemption, the device does not qualify for inclusion under the exemptions." For example, if you have a device with a wireless transmitter and some baseband circuitry that happens to be exempt, the wireless transmitter still has to be tested.
Summary
Hopefully this article clears up the FCC rules on authorization for kits and subassemblies. If you have any more questions about your specific device, contact an accredited FCC test lab.