EMC Testing Foundations

---
Get up to Speed as quickly as possible on the Latest EMC Test Requirements and Standards
---
The equipment needed to perform each test and how to set up and use it
Most common reasons devices fail each EMC test
How to determine pass/fail criteria for various devices
An overview of the main emissions tests devices must pass to be approved for sale in various markets
The seven most common immunity tests and how to determine which ones apply to your product
Criteria for evaluating and choosing the best test lab for product approvals
Test Engineers
Test engineers who want to learn how to set up and run an EMC test lab
Testing Technicians/Engineers
Technicians and Engineers who want to know what test equipment they'll need to purchase for various EMC tests
Managers and Engineers
Managers and engineers who want to better understand the EMC testing process needed to bring products to market
Industry Professionals or Students
Anyone who has questions about EMC testing and standards
| Lesson | Time |
| --- | --- |
| What is EMC? | 12m:15s |
| Radiated Emissions | 37m:23s |
| Conducted Emissions | 14m:24s |
| Voltage Flicker | 9m:38s |
| Harmonic Current | 8m:52s |
| Immunity Testing Overview | 11m:40s |
| ESD Testing | 16m:59s |
| Radiated Immunity | 18m:18s |
| Electrical Fast Transient/Burst Immunity | 15m:37s |
| Surge Testing | 13m:06s |
| Conducted Immunity | 11m:27s |
| Power-line Magnetic Field | 9m:12s |
| Dips, Drops and Interruptions | 11m:57s |
| Introduction to EMC Testing Standards | 2m:41s |
| Approvals Process For Unintentional Radiators | 11m:56s |
| Certification Process For Wireless Devices | 22m:29s |
| Navigating FCC (For Non-Wireless Devices) | 20m:31s |
| Navigating CE (For Non-Wireless Devices) | 36m:59s |
| Navigating FCC (For Wireless Devices) | 17m:13s |
| Navigating CE (For Wireless Devices) | 14m:46s |
| How to Keep up With the Latest Standards | 6m:55s |
| How to Create an Immunity Test Plan | 37m:03s |
| FCC and CE EMC Exemptions | 16m:13s |
| Guide to Using Wireless Modules | 29m:32s |
| How to Select the Best Test Lab | 39m:51s |
| Hardware Changes After Certification? | 46m:54s |
| How to Get Test Equipment Bargains | 41m:08s |
| How to Save $1000+ on European and International EMC Standards | 7m:46s |
The "EMC Testing Foundations Course" is an introduction to emissions and immunity EMC testing requirements and methods for design and compliance engineers.
The training includes 3 modules:
Module 1: "EMC Testing 101" is an introduction to individual EMC tests and how they will be applied to your products. You'll learn the fundamentals of each of the main emissions and immunity tests are that your product may face at an EMC test lab.
We cover what each test is for, test equipment used, test methods, how the tests will be applied to your product (for immunity tests), typical failure modes and more…
Module 2: "Standards and Regulations" shows you how to identify and navigate the standards that apply to your product.
You'll learn the processes and procedures for picking the right route to market for North America and Europe.
You'll learn how to find and navigate the EMC and RF standards that apply to your product, how to keep up with the latest standards and the pros and cons of using wireless modules.
You'll get a bird's eye view of the regulatory requirements and how to efficiently navigate them.
Module 3: "Bonus Guides" can save you several thousands of dollars.
Choosing the right test lab can save you over $2000 and 2 weeks time to market, and we cover what you need to know to pick the right one.
You'll learn the implications of changing your wireless or non-wireless product after testing.
And I give you an over-the-shoulder look at how I managed to buy test equipment worth over $5000 for under $500 with a screen capture walk through of the process.
Finally, you'll learn how to pick up CE emissions and immunity standards for free (or very close to free) – legally of course.
---
---
---
The EMC Testing Foundations Course
3 Modules
29 Video Lessons
1 Year Unlimited Access
Certificate of Completion
---
---
Tuition: Request Pricing
Setting: Online/Virtual
Course Length: 9.5 Hours
Some of our Happy Customers:
---
---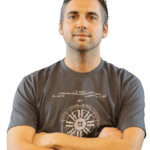 Andy Eadie
EMC Engineer | Hardware Design Engineer | EMC FastPass Founder
Andy is a hardware design engineer and the founder of EMC FastPass.
He designed hardware products for 10 years before building and running an FCC listed EMC test facility. In 2014 he founded EMC FastPass with the goal of making EMC education interesting, accessible and globally available.